WhiteFire Legends Co. was started in September of 2016, by Icefurr, a writer and blogger already. It is a company that produces free things, not something you usually see. Stories are free, audio dramas are free, and the newsletter only costs one click. Since then, WhiteFire (who was Icefurr) completed a full short story series, and multiple stand-alone "legends". The company partnered with Myriam Rose, an independent writer and blogger, a partnership that fell apart soon after. WhiteFire Legends is now tightly related to Give Her Wings, instead.. WhiteFire Legends Co. is also producing a newsletter, if you didn't notice that in the above description. It is called WhiteFire News.

WhiteFire Legends Co. is also partnered with/assisting Give Her Wings, a non-profit organization dedicated to helping single mothers or other women who have escaped abusive relationships. We write stories and podcasts for their children. So, WLC is essentially another branch of Give Her Wings.
Members of WLC (Handles)
WhiteFire - Founder
Megan Cox and Give Her Wings - Supporters
Dawson N. - Writer
Powered by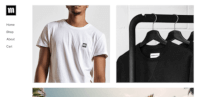 Create your own unique website with customizable templates.